My new tagline for The Process Expert is "Helping your business gain operational efficiency and better your customer service", which focuses more clearly on operational efficiency and customer service by dropping product & service improvement. Why the change? Because I realised my consulting was set toward two of the three disciplines I've commonly talked about for years. I truth, the original trio were probably spawned from thoughts following consistent use of the Treacy-Wiersema Value Disciplines in initial conversations with clients during consulting over many years. I did, and still do, use other frameworks; but there are certain approaches that help me get to the most important matters most quickly, giving the client new clarity and direction. You'll see shortly that my change of tagline ties in with my "elevator pitch" too 🙂
Time has a way of showing where one's main skills lay. for me, it's become increasingly obvious it's Customer Service and Operational Efficiency. I have often been horrified by Customer Service practices in both large and small business; but I've equally always been able to see where WASTE is happening in operational areas. Both go way back to when I did a two year Retail Management course with Myer. Although there wasn't a lot I could do about Customer Service standards apart from encourage staff, I did start changing the way areas under my control did stock takes, storage and retrieval of merchandise and other things. That bent to Operational Efficiency followed me through being a Building Supervisor on a large retirement village and into a Stock Controller role with a large car retailer. My move into computing came after a six month course of study at an IBM based programming school named Development Systems International in Melbourne in the late 80s. Moving from programming into systems analysis and then to business analysis and project management within four or five years, I started to face the same questions everyone was asking about computer projects: why so long, why doesn't it really give us what we asked for and (of course), why does it cost so much?
The issue of Customer Service is deeply embedded in the way we handle the genesis and development of computer projects. The want to provide genuine value and benefit is crucial to the outcomes the customer is seeking after. One the other hand, the drive to bolt down costs, requirements and timeline as early as possible, and then to proceed without much consultation is to blame for many failures to deliver real or lasting change, in both small and large institutions. The move to Agile Methodology has certainly alleviated much of the problems we used to have, but a methodology can still be followed almost mechanically, without heart. In consultancy, real Customer Service begins when a consultant approaches a client with an open mind, a heart to genuinely help, and a mature kit bag containing his (or her) 'tools of the trade'.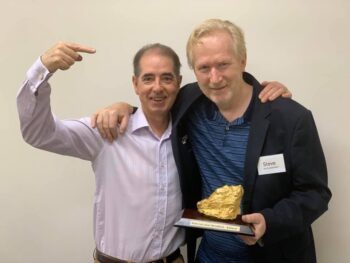 Now for that bit about the Elevator Pitch! I won the Golden Nugget Award at Referrals Over Breakfast in January 2020 for my one minute elevator pitch. This is good news; not because i'm a salesman (far from it), but because it proves I know what I do and why it's of value.
Whilst surface gains can be made by applying a standard approach, a template or a list of questions; the real goods can only be found by genuine inquiry. That means not just talking to management, but getting down in the trenches too; and it means knowing what to ask as you dig. I've long found the Zachman Framework to be a wonderful tool. John Zachman calls it "The Framework For Enterprise Architecture"** It's dimensions of Organisation, Process, Information, Location and Event (WHO, HOW, WHAT, WHERE & WHEN) are useful for more than a framework though; they effectively provide avenues of inquiry! 
So if you call on The Process Expert to help your organisation, you'll get decades of business experience across a plethora of industries. You'll also get a recognition of frameworks and Business Patterns, but a real appreciation that competitive advantage lies outside the norm that's found in business patterns! I'll genuinely help you to better your Customer Service and tune your Operational Efficiency. That's a promise. If I can't help (that hasn't happened yet), I'll say so; but if I can, we'll get great results flowing for your business.
#theprocessexpert #businessimprovement #workflow #businessprocess #businessprocessautomation #systemsintegration #framework #businesspattern #Zachman