We Got Communication Covered! (?)
We have TEAMS
We have Zoom
We have Google Workspace
There is so much communication software now that it's easy to get slammed like Facebook and get glazed eyes whilst you are scrolling through content even in your own company!
The secret to good communication is knowing what people need to know for their roles, and then what's for everyone.
Give People What They Need!
If you want to figure out what people need to know for their roles, it's about value chains, business interactions and business processes.
Roles really need to be designed in such a way that information flows between them in support of business functions, and skills are extremely important where roles are concerned.
BIM: Business Interaction Model
I really like the Six Sigma BUSINESS INTERACTION MODEL. The following example of a BIM comes from a PDF by ProVision, and favourite old tool of mine from the 2000s. The software was bought by OpenText and is not available in its previous form to my understanding.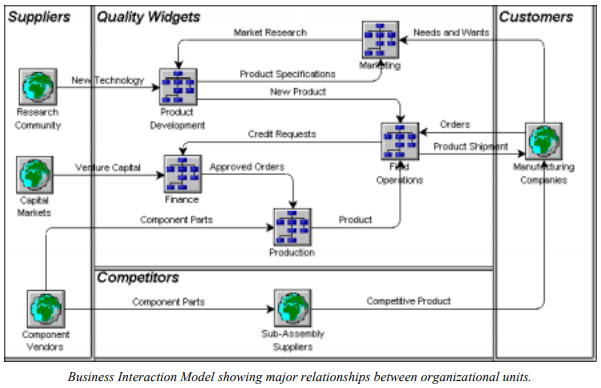 A Business Interaction Model shows the communication between parties and sets the context fabulously for dropping the roles into swim-lanes in Business Process Diagrams using BPMN. Even BPMN pools correlate to the way the diagram lays out Suppliers, Customers and Competitors (or Partners on occasion).
Organisational Design Problems?
Communication that goes through a role or position should add value. If it does not add value, you may have an organisational design issue. This is something we have to be really careful of. Our disposition to create hierarchical organisations can backfire! Not only can it take time to pass communication through a management layer that is essentially non-productive in terms of the communication in question; but it can also act as a Chinese Whisper, causing a loss of value!
A Story From A Famous Guy 🙂
Elon Musk tells a story about Organisational Design and Space-X. He said the rocket designs were just not going right now matter which approach they took. Then he sat back and looked at the organisational design and realized it may have been working against his objectives. They changed the organisation model, including roles and interactions, and wow, the results came!
It's great to have lots of chat and communication, but filtering it can be a problem. It's great to carve up silos according to skills, like IT or Accounting or Sales; but we really need to concentrate on our value chain, support functions and management processes to ensure our organisation can achieve what we want it to!
I have seen multiple companies that were fun when times were good go off the rails when things for more difficult. Do not wait for times to get tough to sort out the way your business should best work! It's too late when hard times hit. You need to get the design right now. Next year may be too late.
So enjoy your communication
I hope you don't get too little
I hope you don't get too much
I hope you don't suffer from Chinese Whispers!
Your organisation, be it large or small, actually needs Communication By Design! If you would like help with Business By Design:
mapping your business strategy into your value chain and business processes
revisiting your organizational design, including departments, positions and roles
creating a process architecture and business process model
Just contact me!